On being ill (& selfish)
Less sublime than Virginia Woolf makes it out to be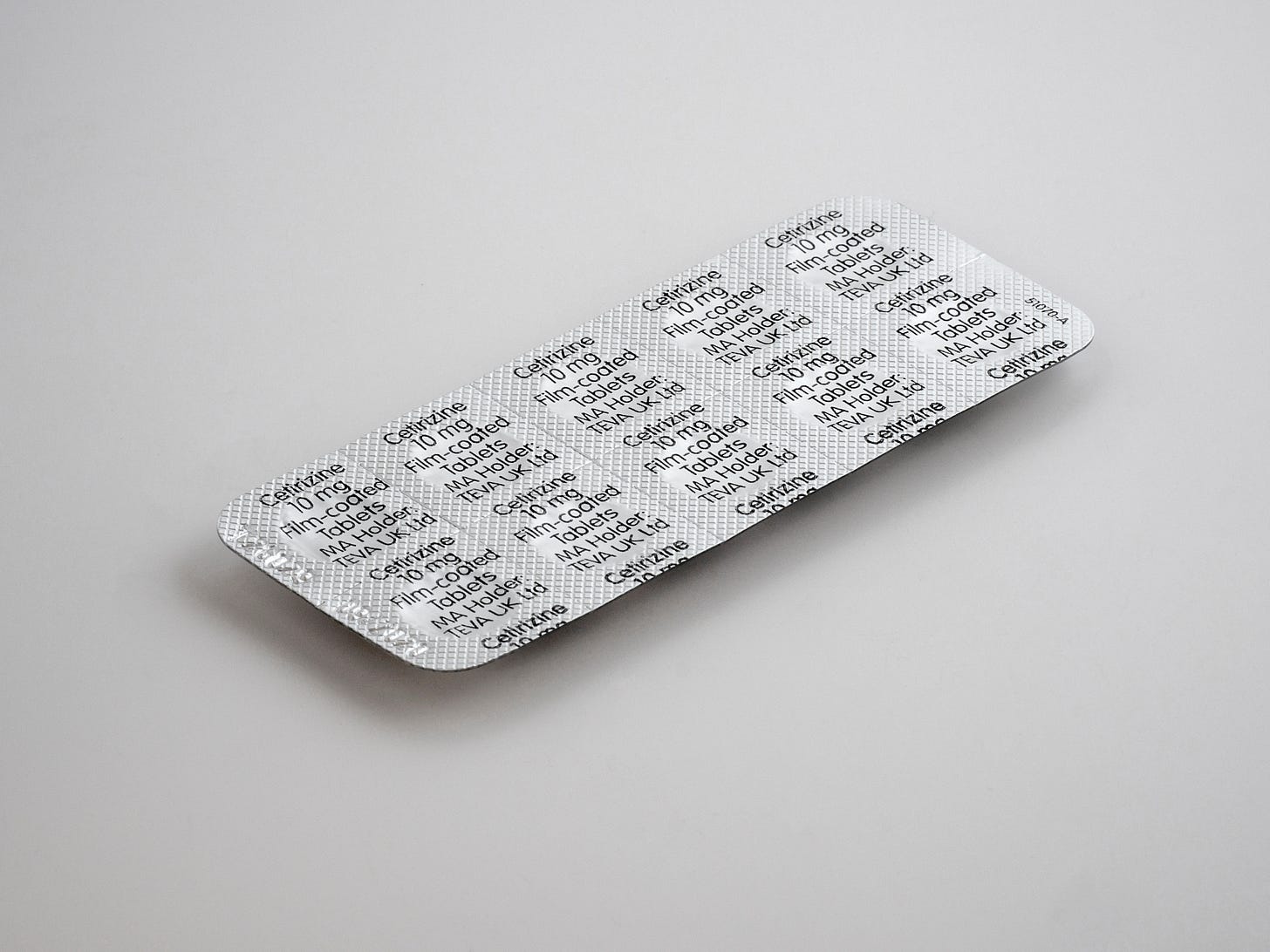 I've been thinking recently, for obvious reasons, about being ill, and being ill alone, and whether we're built for it. Anne Boyer wrote on the virus, and how this moment's challenge is to "to see the negative space as clearly as the positive, to know what we don't do is also brilliant and full of love". It's a tough ask. Coronavirus creeps. It hitchhikes in the healthy to grasp at the feeble. And so to save the ones we care for, we cannot care for each other in our usual ways. We cannot wipe away the fever sweat from each other's foreheads. We have to isolate ourselves, and trust in the professionals in masks.
I'm old enough to remember the H1N1 influenza. My family was living in London as this flu efficiently targeted children aged 5 to 14. I was twelve at the time, safely ensconced in a boarding school in rural Andhra Pradesh. My sister was four. By the end of 2009, there had been hundreds of thousands of cases in England, and nearly 300 deaths. And yet I never felt any of that panic myself, and neither did my parents, because we were moving to India that year anyway. There was some sense of invulnerability, that this flu was a mild inconvenience. 
Ebola was different. I was an adult by 2016. It was less scary in some ways; neither my education nor my media consumption had made any effort to imagine 'Africa' as anything more than abstraction. The cases never took off in India. But it was more scary in other ways: this virus could make you shit and vomit yourself to death, and then your shit and vomit would infect whoever had been caring for you. It seemed an unusually cruel way to go. 
But I was not old enough for swine flu or Ebola to understand the true hardship of being ill in isolation. I was not old enough to consider the idea of catching either and not having my family around my bed. 
I think we have all fallen ill at some point in our lives—in grip of a great fever that makes the bedroom wall shimmer like a desert mirage—and reached out for our mother. On a field trip last year, sitting on hard plastic seats in Kenyatta International Airport, I confessed to my co-worker how I'd recently fallen ill. In the space of one night, I regressed two decades to suddenly become an infant, crawling to my parents' bedroom on all fours, burrowing my nose in my mother's bosom as she slowly came awake. She knew, instantly. I didn't have to say a word. She fetched me some medicine for my stomach, which she spooned into my mouth. Then she lay on her side and quietly sang me to sleep, her hand keeping rhythm with the song. There went all my talk about freedom from the tyranny of my parents. 
My co-worker in turn shared something similar. He is a former investment banker, always hunching to hide the 6 ft. tallness of himself. This former investment banker, this silver-haired adult man, told me that he had made a habit of falling grievously ill every two years. And when he did, his mother would travel from Gujarat to his home in Mumbai, gently push his wife and child to the side, and nurse him back to shining, pink health. Those weeks would inevitably be some of his happiest. I related to him.
We take pleasure in unfreedom, after all. And especially the unfreedom of being ill, when you have the luxury of being tended to with love, with its distinctly female energy. I cannot imagine fathers and husbands participating en masse in the communal event that an illness is; the cooking, the bouncing of the baby, the administering of medicine (though if they did, being ill would be even more joyful, even more communal). Besides which, being ill lowers our defences. It makes us softer, pliable, more attentive to the world as we labour to put one foot in front of the other.* And once we recover we are suffused with gratitude towards the world.
It's different when you have to do it alone. I was on a solo trip to Andaman and Nicobar islands. One day I was merrily trekking up the road to see Cellular Jail, and the very same night I was lying in bed, unable to get up. I remember how my sides and my stomach were in bruising pain, how my head would jellyfish in and out of focus with every step. At Havelock Island, the sun made the swimming pool glitter right outside my door. Meanwhile I couldn't step out, I couldn't hold food or water down, I had to suck on dried cranberries when the hunger got too painful. There was no doctor, no WiFi or signal; there was barely paracetamol. When I slept, my dreams were febrile and sinister. When I couldn't stand it and had to awaken, I would sob for hours on end for no reason at all except a chasmic loneliness. I shat myself, a low point it seemed I would never recover from.** I watched Apocalypse Now for the first time, thinking an evergreen classic might help (it made everything worse). I cried myself dry on the ferry from Havelock Island to Port Blair, and then from Port Blair to Calcutta airport (my threshold of self-consciousness had buckled so low that public spaces and strangers meant the anonymity to act like an insane individual***). My psyche took several days more than my body to recover.
I'm not the ideal target for this virus, and I'm privileged enough that even if I were exposed to it, I'd beat it. I'm terrified of being a carrier for my 50+ year old parents. But even with this higher-ranking fear, a small and selfish worry still grabs hold: what if I got it? Would I be able to get through it alone? All the wrong questions; I think Anne Boyer would be deeply disappointed in me.
---
(*) For a variation on the same theme, see Phantom Thread, directed by Paul Thomas Anderson.
(**) "there was a day where you shit yourself and it was the last time" — Jaboukie Young-White
(***) I still feel guilty over how much I cried and how little I accomplished that holiday; how I became less of a person and more of a hysterical character in a book. This article by Natalie Shure, on battling a deadly strain of tuberculosis while having cybersex, made me feel better:
I wish I could be more inspiring. But I didn't use that time to write a novel, learn yoga, or even plow through a beach read. Falling into a trance and getting off strangers was all I felt capable of.

Objectifying? Sure. So is being sick.